August Webinar
Date:  August 25, 2021
Time:  10:00 AM – 11:30 AM in Eastern Time (US and Canada)
Presentation #1 – "SCR Inlet DSI Lessons Learned" by Dave Luchtenberg (AEP) 
American Electric Power (AEP) was one of the first utilities to test and implement the dry sorbent injection (DSI) solution starting with SO3 emission control using trona. Over the decades of DSI experience AEP has a multitude of experience and lessons learned in terms of application of the solution as well as equipment design/operation as they've utilized DSI for HCl as well as SO2 emission control across their fleet. Over the past few years AEP has started to transition to injecting sorbents upstream of their selective catalytic reduction (SCR) systems as a means to optimize their DSI solution. This presentation highlights AEP's lessons learned over the years as they've gained experience injecting upstream of their SCRs specifically at their Rockport facility which uses sodium bicarbonate for SO2 emission control.
Presentation #2 – "Dry Scrubber Nozzles 101" by Stewart McKenzie (Lechler USA)
Dry scrubber operators are faced with many different challenges. They must guarantee a reliable continuous mode of operation while achieving strict emission requirements which creates a constant pressure to invest and innovate despite increasing staff turnover without properly transferring knowledge and experience to lesser experienced team members. It may be assumed that spray nozzle operation is well understood; however, several operating issues are observed ranging from nozzle build up to wetting reactors, hoppers, bags, etc. are still experienced and avoidable. This presentation will give more insight to 'how' and 'why' the spray nozzles are designed, operated and maintained to educate end users to help avoid common pitfalls observed in the field and help optimize dry scrubbing performance. This session will be a discussion around several relevant subjects regarding dry scrubber spray nozzles that range from nozzle design to proper maintenance to lessons learned.
About the Presenters: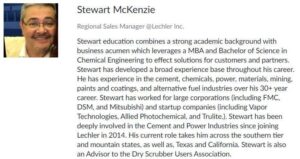 Important Announcement
2021 EnviroSummit Postponed
Due to the rise in Covid cases, and for everyone health and safety, the tough decision has been made to postpone the EnviroSummit to April of 2022.  The conference will take place at the same hotel, the Sheraton Charlotte Hotel on April 4 – 7, 2022.  The plan is to keep the scheduled sessions the same as previously planned.  If you know that you will not be able to join over the new dates, please let EnviroSummit know as soon as possible.
DSUA Webinars
Link to access all DSUA webinars: Virtual Conference – Dry Scrubber Users Association
Thank you to our 2021 Webinar Sponsors
Platinum
Gold
Silver
Bronze
CONFERENCE NEWS
In Person Conference: DSUA Participating in the EnviroSummit (April 4-7, 2022 in Charlotte, NC)
DSUA is excited to announce that we will be participating at the Global EnviroSummit in person conference. Here is what you need to know:
What is the EnviroSummit?
The EnviroSummit is a 3-day global conference with international presentations in the morning on the main stage, and breakout sessions for Remediation, Vapor Intrusion, Air Quality and WasteWater in the afternoon. The mission is to accelerate trends and advance technologies in our industry. If you'd like to learn more please visit their website http://www.envirosummit.com/.
How is DSUA involved with EnviroSummit?
DSUA is promoting and endorsing this event as a means for those interested in Air Quality (specifically around dry scrubbing applications) can congregate in person to learn and network. In addition, DSUA will be specifically allotted slots during the break-out sessions to present content. Anyone interested in learning more about the use of Spray Dryer Absorbers, Circulating Dry Scrubbers and Dry Sorbent Injection (as well as use of the ancillary particulate control device) to control acid gas emissions should attend the DSUA break-out sessions at EnviroSummit.
When and where is the EnviroSummit?
The event will be held from April 4-7, 2022 in Charlotte, NC at the Sheraton Charlotte Hotel.
How do I register?
You can register at the following link: Get Tickets. As a participant from DSUA you can use the discount code of "DSUA25" to receive 25% off your registration fee.
How do I present during the DSUA break-out session at the EnviroSummit?
Abstracts can be submitted at the following link: EnviroSummit.